The back to school routine school is here, and it's time to embrace fresh starts and new routines. As parents and students alike face the whirlwind of back-to-school preparations, organization and planning are key. In this guide, you'll discover practical and tailored tips to streamline your mornings and ensure a successful school year ahead.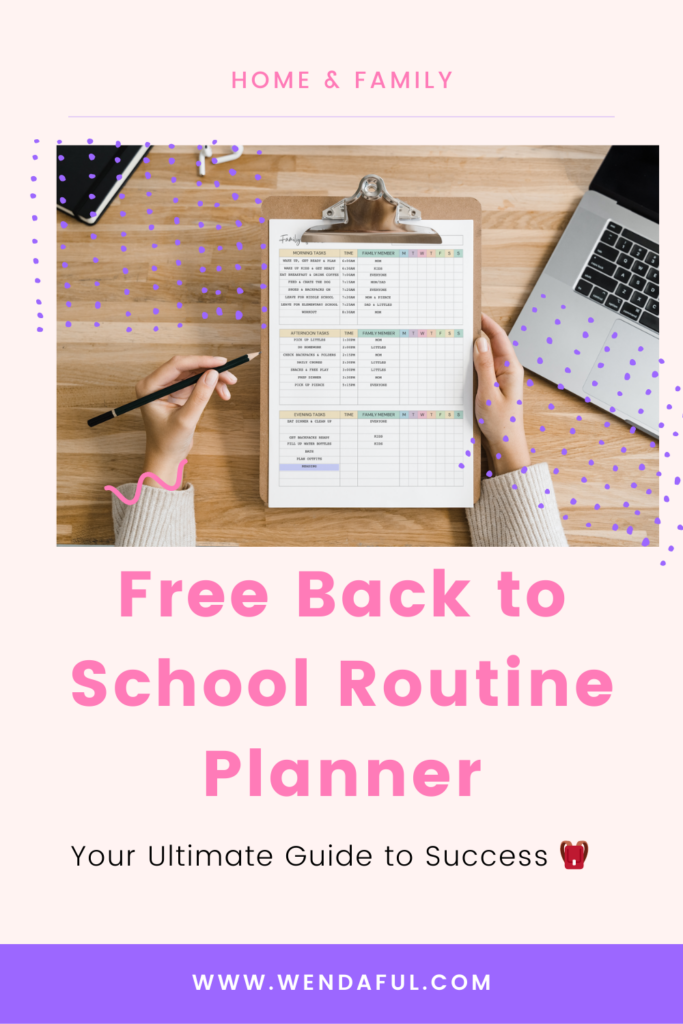 1. Establish a Back to School Morning Routine for Success
A successful day begins with a successful morning, right? Here's how to make it happen:
Wake Up Early: Place your alarm across the room to avoid snoozing, or experiment with gradual wake-up light alarms for a gentler start.
Mindful Moments: Dedicate 5-10 minutes for deep breathing, stretching, or journaling. Free apps can guide beginners through mindfulness practices.
2. Prepping the Night Before: A Time-Saving Strategy 🌙
A little bit of night-before prep goes a long way for your back to school routine. Trust me, your future self will thank you!
Plan Outfits and Lunches: Lay out clothes and prepare lunches in stackable containers. Prepping lunches the night before can save both time and stress. & Don't forget to fill up those water bottles!
Organize Backpacks: Create a designated space for school items. We have a little desk right by the front door filled with papers, pencils, glue sticks, anything they may need for school and we always make sure they're stocked and ready in their backpacks. There's also a charging station for their chromebooks!
Set Goals for the Day: Keep a notebook by your bedside for jotting down the next day's goals.
3. Homework and Study Schedule for Better Grades 📚
Staying on top of homework doesn't have to be overwhelming.
Set Clear, Achievable Goals: Use SMART goals for success. Break tasks downs and make them manageable.
Effective Time Management with the Pomodoro Technique: Study for 25 minutes, then take a 5-minute break. Repeat. Doing this with the kids' homework makes it so much less stressful!
4. Family Coordination: The Key to Smooth Sailing 🏠
Our families are our teams, and communication is key.
Shared Family Calendar: Google Calendar is a free and convenient tool. We are an iOS family so we're on the Apple Calendar.
Weekly Family Meetings: Keep everyone on the same page with regular check-ins.
5. Organizing School Supplies: A Stress-Free Approach ✂️
I love organization, so this part gets me excited!
Designated Spaces for Everything: Label shelves or drawers.
Create a schedule: Use my free printable below or create a schedule for your middle or high schooler for their classes. This year I used this generator from this website and my son loved his new color coded schedule. We input his classroom number and his teacher for each period.
Declutter Regularly: A monthly reminder to declutter will keep spaces fresh and functional.
6. Building Healthy Habits for Lifelong Success 🍎
Healthy habits sets our kids up for success.
Incorporate Exercise: Include fun activities like dance or biking.
Plan Nutritious Meals: Create a weekly menu with your children's input.
7. Budget Planning for School Expenses: Smart Financial Management 💲
Being mindful of our spending helps us achieve our goals
List Anticipated Expenses: Categorize costs and break them down to keep it clear.
Set Savings Targets: Consider discounts, bulk buys, and second-hand options.
Free Printable for Ultimate Planning 🖨️
To make your back to school routine planning even more wendaful, download our editable free printable family schedule planner designed exclusively for this guide. This is the a5 version if you want It in your planner. It includes sections for your morning, afternoon and evening tasks, the time to do it, and who's responsible, with a checklist for the whole week. The printable is editable and I have inserted my specific routine but you can edit it to fit your schedule!
Download your files here:
This works best if you're on your computer. If you are on mobile, you will have to save it to your files first before you can edit it.
a5 family schedule printable (878 downloads)
US LETTER - family schedule printable (1016 downloads)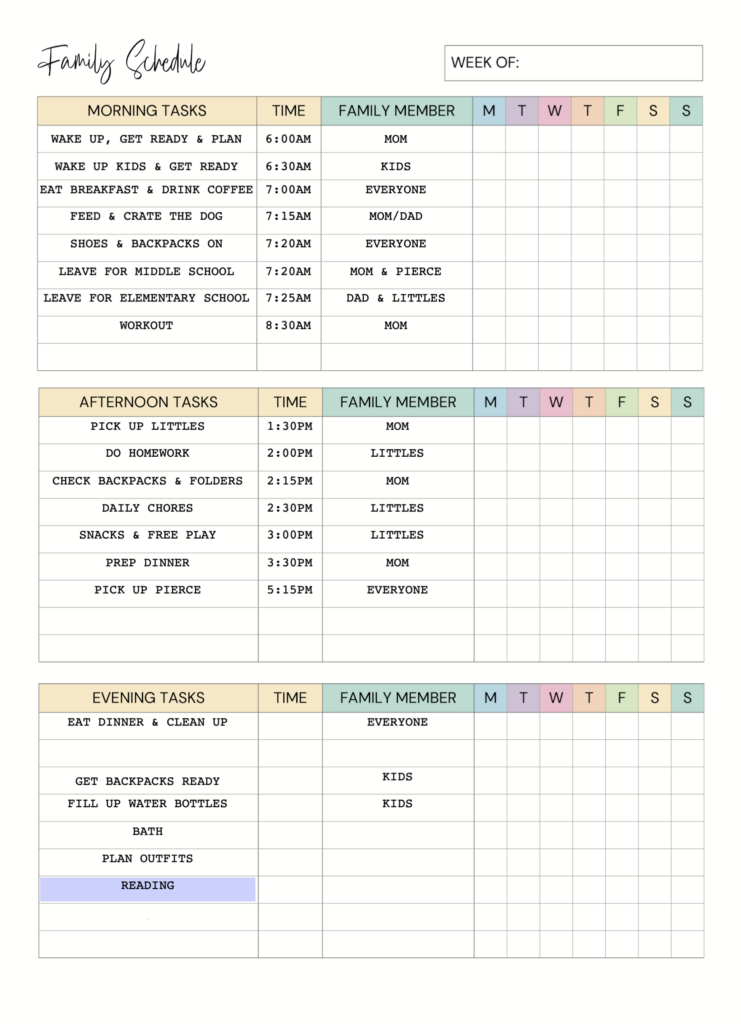 Tips for Success
Consistency Is Key: Stick to the routine as closely as possible.
Flexibility: Allow room for unexpected events.
Involvement: Include children in the planning process.
Embrace the New School Year with Confidence
Back-to-school is a time filled with both excitement and challenges. But by putting these strategies into practice, you're setting yourself up for a harmonious, productive, and absolutely 'wendaful' school year.