Breaking down goals
One of the biggest issues regarding setting goals is to keep them at a high level. We all want to accomplish things in life. But setting goals that are too general is going to make it difficult to accomplish them. It's also going to be difficult to measure how you are doing. The best approach is to break big goals into chunks.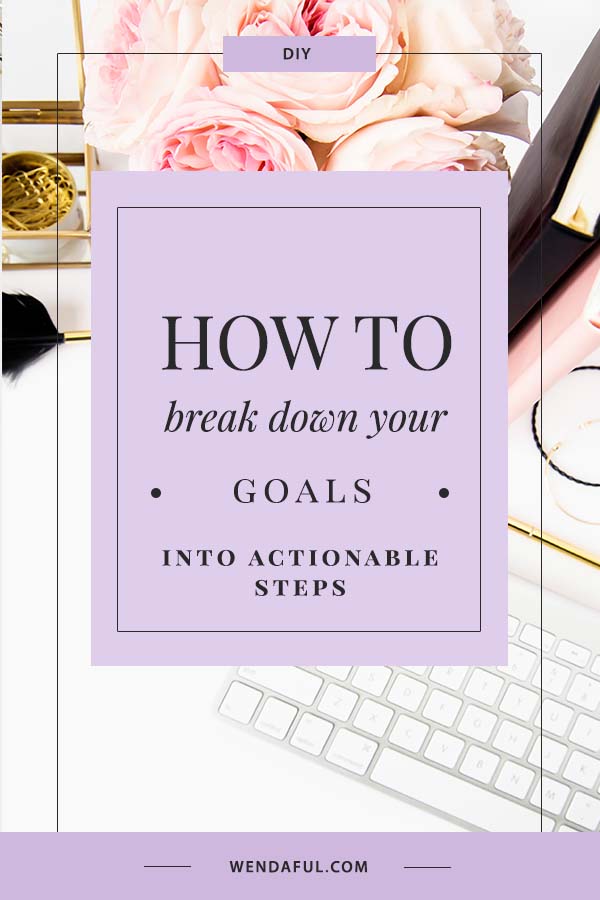 The most effective way to achieve important goals in your life is to break big goals up into smaller ones. Long-term, medium-term, and short-term goals are all necessary for a successful goal setting strategy.
Breaking down your goals will ensure that you're consistently taking steps toward achieving the life you desire.
The best way to get where you want to go is with a mix of short, medium, and long-term goals. Each has different benefits and can launch you forward toward the end result that you seek. Break down big or long-term goals into smaller weekly or daily goals to make them easier to focus on.
These goals are your stepping-stones for medium and long-term goals.
Use this step-by-step goal setting strategy to break down your goals and make them achievable:
Set your long-term goals first
What do you want to achieve in the next few years? These are broad goals that will take some time to achieve, like buying a home, graduating from college, or starting your own business. Your long-term goals are the foundation for goal setting as they define where you want to be in the future. It's okay to dream big with your goals but be realistic about accomplishing them. My long-term goal is to buy a new house with a  15% down payment by 12/1/2018.
Long-term goals should be obtainable within a set number of years
Try to give your goals a time frame, such as buying a home in three years or graduating from college with a Ph.D. degree in eight.
Set your medium-term goals next
Let these act as large stepping-stones to help you achieve your goals. For example, if your goal is to buy a house, let a medium-term goal be to save 15% of the house deposit, since this is a reasonable goal between where you stand now and the ultimate goal you hope to achieve.
Medium term goals should also have specific time frames in mind
These will keep you moving forward, ensuring that you're always working toward your long-term goals and aspirations.
Finally, focus on your short-term goals
These are goals that you can achieve more readily. These will be actionable tasks that you can start doing now. Set short-term goals for each quarter, for example. Start with setting a goal to research how much houses in your area costs, a goal to decrease expenses, establish a way to create more passive income, and a goal to meet with a realtor so that you can start planning for buying your new home. These goals guide you toward your ultimate goal.
Short-term goals can be anything you want them to be, but they should be supporting your big goals. This means that they should be small, but definite, steps toward your desired end result. For example, to save up for a house we would have to stop spending so much and put an extra amount of money into savings each month. Setting goals are important. But creating action items related to those goals is the key to making them a reality. It is much easier to perform smaller chunks of work than it is to wing it towards whatever goal you are striving for.
Follow the SMART goal setting strategy
Specific, Measurable, Attainable, Realistic and Timely short-term goals that you know you can achieve. Check out my other goal setting post for more info here.
Write your goals and action steps down on paper. Put it in a place where you can see it every single day. I like to rewrite my goals every day to make sure that I am always working towards it.
When you break your goals down into action steps and find that you cannot accomplish them within the specified periods, rework them until you find the right mix of actions. Making the goals and actions too difficult will set yourself up for frustration when you cannot accomplish them in a timely manner.
Start taking action
If you feel that a dream is unreachable or unobtainable, then it will be. However, if you take one small actionable step each day, you will soon reach your goals and dreams. Start taking steps in the right direction while planning, instead of waiting for every detail of your plan to be complete. This is where I struggle the most. But it's important to just take the first step. The important thing is to just get started. You can always come back and adjust it. Stop planning now and just start doing.
 Planning and prioritizing your tasks can help you decide on the most important tasks to start working on.
Your first step should take no longer than 30 minutes. If it's longer try breaking it down even more so you're less likely to procrastinate on it.
Each evening reflect on tomorrow. Decide which tasks you'll work on.
Create a to-do list. Your list will enhance, focus, reduce stress, and give you a feeling of accomplishment.
Write down your three most important tasks on your list. Start with the first one and start them early in the day where you have the most willpower.
Make a schedule – with deadlines – for your tasks
Be realistic about what you can accomplish in the time allotted.
Turn this into a habit to be a part of your daily routine, so that working on your goals becomes automatic.
Taking action, regardless of how small or how long it takes, will help move you forward.
Review and evaluate your plans
Evaluating how well you accomplish the action steps will go a long way in helping you meet the goals. The set of actions will get you where you want to be. If you find you are stumbling on some of your action items, determine why and see if you can get back on track. It is at this point you can recognize that you were too aggressive with the plan, and this will enable you to seek alternatives.
Plan for obstacles
Move ahead with your actions and keep going. Understand that roadblocks are a natural part of the process. Think about possible obstacles that will prevent you from reaching your goals. For example, if I knew the key to saving money would be to stop eating out so much, I would meal plan and try to eat out only once a month so that we can save all that money for the deposit for our new house.  If something worthwhile was easy, you wouldn't need to set goals to accomplish it, and everyone would be doing it. It probably won't be worth it either. Overcoming obstacles give people a sense of accomplishment, and it can help us grow.
Avoid distractions
Do away with multitasking – focus on just one goal or action at a time to reach your goals faster
Use the Pomodoro method to stay focused
Stay motivated
Focus on your motivation for the goal. Why is this goal important to you? Imagine what it will feel like to accomplish it.
For each goal list out your whys.
Use affirmations – meditate on how it feels to be exhilarated once your new dream comes alive.
Visualize it – envision yourself as having already reached your goal. How does it feel?
Constantly remind yourself – write it daily, use sticky notes where you can see it daily. These reminders are easy to see on a daily basis, helping you recall your most important goals early on and throughout the day. If there are specific goals you want to focus on, visual reminders are a great way to help you achieve them.
Long-term goals tend to be the most meaningful and important, which is why they take so much time to achieve. But we should not only focus our attention on the big picture goals when it is the medium and short-term goals that allow us to get there. Focus on all of these types of goals when planning for your future.
The more time you take to plan out your goals, the better the results are likely to be. Having a written plan can go a long way in helping you achieve what you really desire in your life.
[amazon_link asins='1605094110,B00Z3FRYB0,0143126563′ template='ProductGrid' store='wwc045-20′ marketplace='US' link_id='1abd1105-5aec-11e8-bacb-291b2ec1f541′]